Rimac
Rimac has, improbably, grown from a tiny Croatian startup founded in 2009 to become a major player in the high-performance EV realm. Its electric hypercars boast sleek, low-slung bodywork and enormous power, and its battery and powertrain technologies have brought investment from Hyundai and Porsche. In 2021, Porsche even created a joint venture with the nascent automaker, shifting its storied Bugatti brand under the same umbrella as Rimac's car business in preparation for a gas-free future. Rimac began deliveries of its second model, the Nevera, in 2022, which uses the same 1877-hp powertrain that underpins the Pininfarina Battista. Now with control of Bugatti, plus a separate technology division supplying parts to other manufacturers, Rimac's future looks bright.
Research Vehicles
Let Car and Driver's extensive instrumented vehicle testing and automotive expertise guide you to the right vehicle.
Car and Driver
Rating and Accolades
Look for these icons to identify which models are at the top of their class.
Cars
Sedans, coupes, convertibles, and wagons
2023 Rimac Nevera
Starting at $2,200,000 est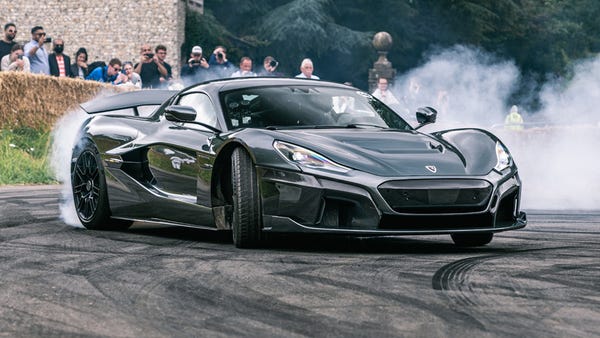 The all-electric 2023 Rimac Nevera is an exercise in maximums, with 1813 horsepower and a $2.2 million price tag.
view 2023 Nevera details
Advertisement - Continue Reading Below