Every Electric Vehicle That's Expected in the Next Five Years
These EVs aren't for sale yet but are in various stages from concept to production—and perhaps a few may never see the light of day.
By Caleb Miller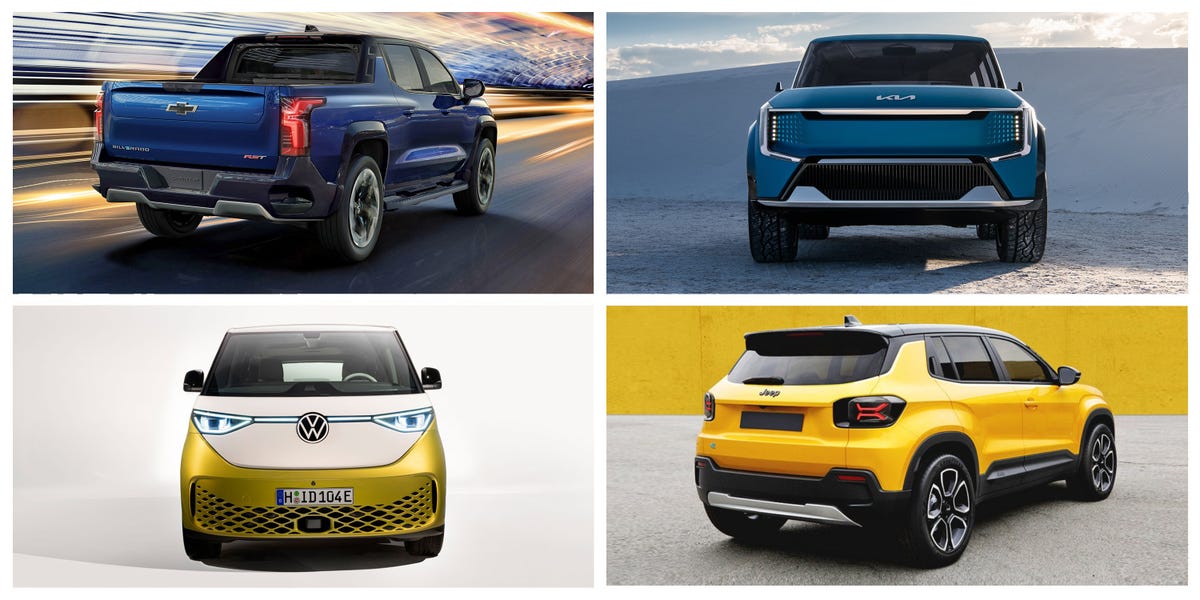 Car and Driver
Electric cars are the future, and each year we've seen automakers add more EVs to their lineups. Everyone is working on electric vehicles, from well-established existing manufacturers to new names such as Lucid, Canoo, and Rivian. We've compiled a list of every electric vehicle, from concept to production, that isn't available yet but will be soon.
Advertisement - Continue Reading Below
Acura ZDX (Expected: 2024)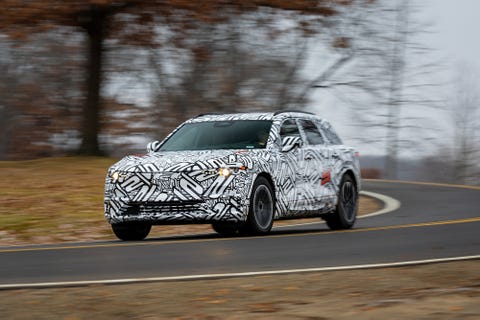 There's some major electrification missing from Honda's current lineup, and the Acura ZDX will be another step toward changing that when it arrives in 2024. Details are limited, but we know this all-electric SUV will be based on the upcoming Honda Prologue, which itself uses GM bones. You may recognize the ZDX name from Acura's old coupe-SUV model, but this time around the EV should have a more conventional SUV design, as was previewed by the Precision EV concept. A Type S performance variant will also be available, which we assume will have additional horsepower, a stiffer suspension, and more aggressive looks. —Joey Capparella
Acura
Audi A6 e-tron (Expected: 2023)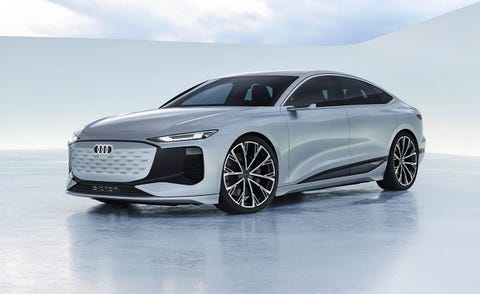 The Audi A6 e-tron is a concept for now, but Audi says it's super close to what the production car will look like. It's based on the scalable Premium Platform Electric (PPE) architecture that can be lengthened, lifted, and widened for a variety of different EV models. It will be sold alongside the gas-powered A6—and it's likely the first EV we'll see on the PPE platform that underpins future electric Audis. The A6 e-tron concept uses two electric motors with a combined output of 469 horsepower. All PPE vehicles have 800-volt charging capability, and this big sedan could have as much as 400 miles of range on a single charge. —Austin Irwin
Audi
Advertisement - Continue Reading Below
Five Bentley Models (Expected: 2025)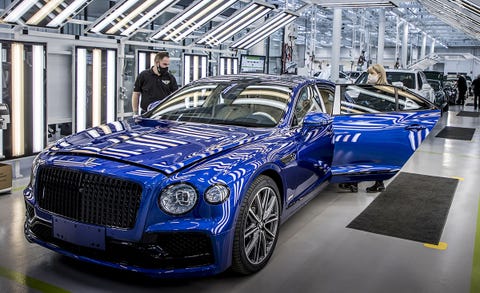 Bentley is planning a major pivot from 15-mpg land yachts to completely new models with fully-electric powertrains. Bentley says it will replace the existing Bentayga, Flying Spur, Continental GT coupe and convertible, and introduce an all-new model to its lineup by 2030. The first replacement should arrive sometime in 2025. —Austin Irwin
Bentley
Buick Electra (Expected: 2024)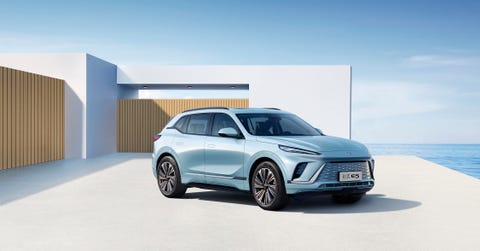 Buick has revived the nameplate of the 18-foot-long steel sled from 1959 for its new all-electric SUV, that's already been revealed for China. The Electra E5 uses GM's Ultium battery platform and should be roughly the same size as a Chevrolet Equinox. An investigation into trademarks may have revealed Buick's future lineup, with filings for Electra E1 through E9. We expect the Electra E5 to perform similarly to the already available Cadillac Lyriq, with a range of 300 miles and 340 horsepower. Buick hopes to put its tri-shield logo atop a fully-electric lineup by 2030, but we should see the first Electra sometime in 2024. —Austin Irwin
Buick
Advertisement - Continue Reading Below
Cadillac Celestiq (Expected: Early 2024)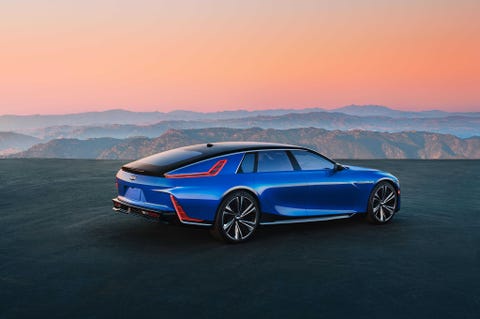 Cadillac wants to return to the days when the company could call itself the Standard of the World without getting scoffed at. At least that's the plan with the upcoming Celestiq, an extravagant EV that will be built by hand and cost upwards of $300K. That price puts it out of reach for all but the wealthiest people, but Cadillac envisions the Celestiq as aspirational rather than attainable. For the one percent who can afford one of these avant-garde 600-hp electric hatchbacks, each example can be uniquely tailored to the customers whims. Will it be enough to vault GM's luxury brand into the discussion with Bentley and Rolls-Royce? We'll have to wait and see once the Celestiq hits the streets of America's richest communities—likely at the start of 2024. —Eric Stafford
Cadillac
Canoo Pickup Truck (Expected: 2024)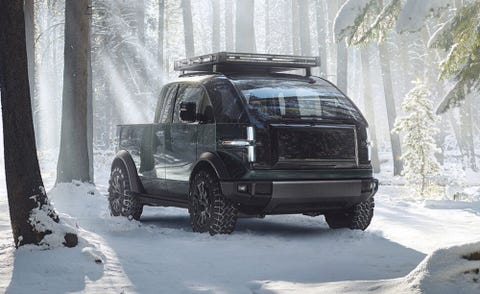 Canoo is an electric automotive startup from California, and this is its pickup. For now, it is simply called Pickup Truck. The Canoo pickup promises more than 500 horsepower and at least 200 miles of range. It's smaller than what's typically found in the mid-size pickup segment, being two feet shorter than the Ford Ranger. Canoo says its pickup will be offered with a six- to eight-foot pickup bed with preorders open right now, and production starting sometime in 2024. The U.S. Army is also testing a modified version of the Pickup Truck. —Austin Irwin
Car and Driver
Advertisement - Continue Reading Below
Canoo Lifestyle Vehicle (Expected: 2023)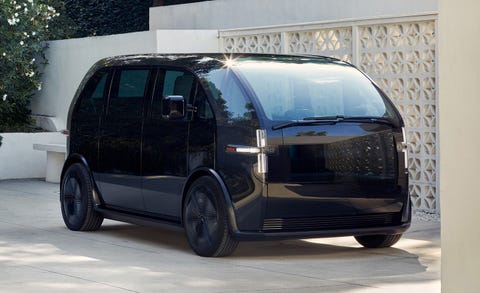 Like Canoo's pickup, this five- or seven-seat EV is built on a skateboard platform, similar to what BMW, Mercedes-Benz, and Volkswagen use to easily swap body styles on similar underpinnings. Canoo claims this little bus will have a range of 200 miles and up to 350 horsepower, with a starting price under $40,000. A delivery van version has attracted 4500 pre-orders from Walmart, while NASA has expressed interest in using the Lifestyle Vehicle for transport at the launch site for the upcoming Artemis moon-landing missions. Canoo has faced financial difficulties of late, but hopes to get production started this year —Caleb Miller
Canoo
Chevrolet Blazer EV (Expected: Summer 2023)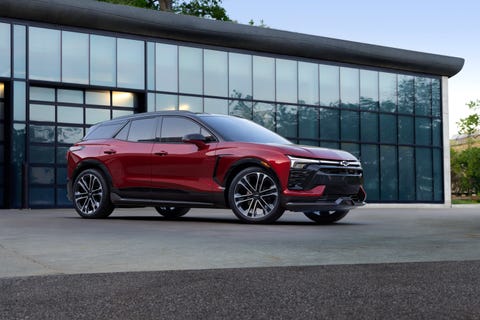 We miss the boxy K5 Blazer of the 1980s and 1990s as much as anyone, but Chevy isn't trucking around with the SUV's next major transition. The Blazer EV, which will be sold alongside the gasoline-powered Blazer SUV, will offer an SS trim level that generates 557 horsepower with acceleration that could leave V-8 Camaros in its dust. Chevy plans to also offer less-aggressive trims that focus on affordability and range. While the EPA hasn't certified anything yet, Chevy is shooting for 320 miles for its long-driving Blazer EV RS model. The Blazer EV is scheduled to go on sale later in 2023, with the lowest-priced 1LT trim joining the lineup sometime in 2024. —Austin Irwin
Chevrolet
Advertisement - Continue Reading Below
Chevrolet Equinox EV (Expected: Late 2023)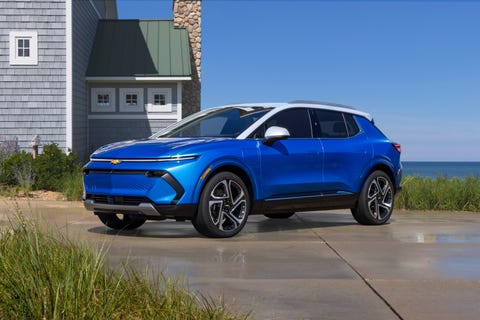 Last year Chevy sold 212,072 units of its Equinox crossover, beating the likes of the Ford Escape, Hyundai Tucson, and Subaru Forester. It hopes to continue this success with an Equinox EV that should start around $30,000 and go on sale in the fall of 2023. The Equinox EV will offer a wide range of models starting with a base trim with 250 miles of range and 210 horsepower. More expensive trims offer up to 300 miles of range thanks to a larger battery pack, and dual-motor all-wheel-drive cars have 290 horsepower. —Joey Capparella
Chevrolet
Chevrolet Silverado EV (Expected: 2023)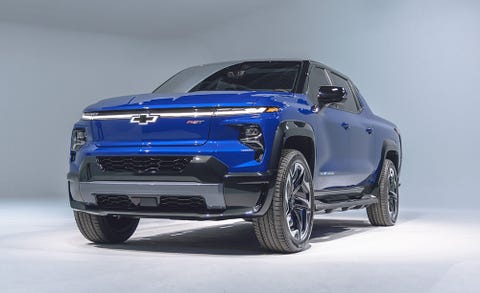 Turns out the GMC Hummer EV and SUV were a little taste of what we'll see from Chevy's upcoming all-electric Silverado. They'll be built under the same roof, with the Silverado also using GM's Ultium battery pack and offering up to 400 miles on a single charge. The Silverado EV will be offered from a fleet-oriented work truck trim to fully loaded RST models with 664 horsepower. In an effort to make good on its promise of 30 new EVs by 2025, production of Chevy's first electric pickup will begin this year. —Austin Irwin
Michael Simari
|
Car and Driver
Advertisement - Continue Reading Below
Chrysler Airflow Concept (Expected: 2025)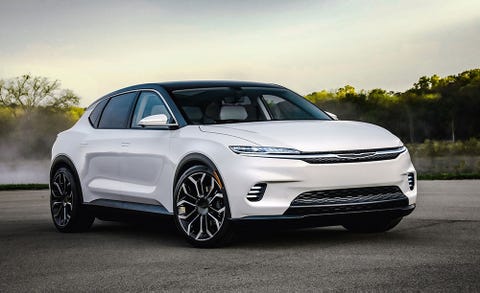 With the success of the Ford Mustang Mach-E in its crosshairs, Chrysler is planning a 400-mile crossover by 2025. The Airflow is just a concept, but the model is claimed to also offer Level 3 autonomous driving capability. The brand, which currently offers the Pacific minivan and Chrysler 300 sedan, plans to go fully electric by 2028. —Austin Irwin
Chrysler
Dodge Charger Daytona SRT EV (Expected: 2024)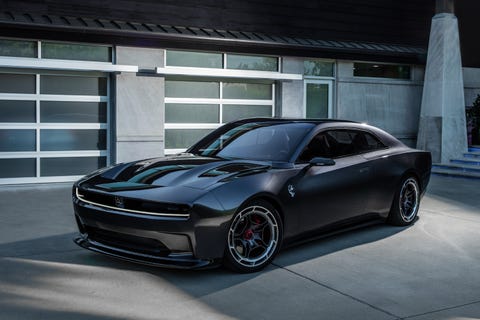 Dodge is determined to keep the muscle car relevant well into the electric epoch, and it's given us quite the preview before its internal-combustion analogue has even left the dealership floor. The Dodge Charger Daytona SRT concept runs on an 800-volt electrical architecture called Banshee, and while performance details are still incredibly light, the automaker promises that its first beefcake EV will surpass the Hellcat's performance. A multi-speed transmission hopes to keep some of the muscle car's visceral nature alive, but the most interesting tech by far is the Fratzonic exhaust system, which uses actual piping to boost the EV's sound to a 126-decibel onslaught. —Andrew Krok
Dodge
Advertisement - Continue Reading Below
Deus Vayanne (Expected: 2025)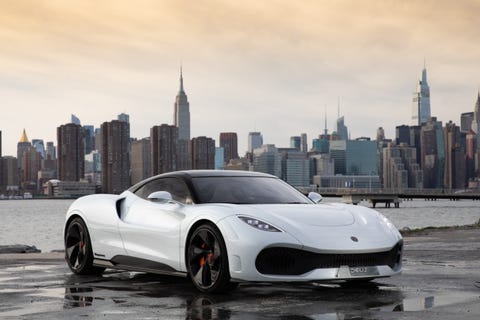 While Austrian startup Deus (pronounced de-oos) is a complete unknown, the company has recruited proven partners for its first vehicle, the electric Vayanne hypercar. The curvy bodywork was penned by Italdesign, while Williams Advanced Engineering has been tasked with developing the 2200-hp powertrain. The company claims that with 1475 pound-feet of torque, the Vayanne launches to 62 mph in 1.99 seconds and on to a 248-mile top speed. We'll believe it when we see it. Just 99 units are planned for production, with Deus aiming to start deliveries in 2025. —Caleb Miller
Deus
Faraday Future FF91 (Expected: 2023)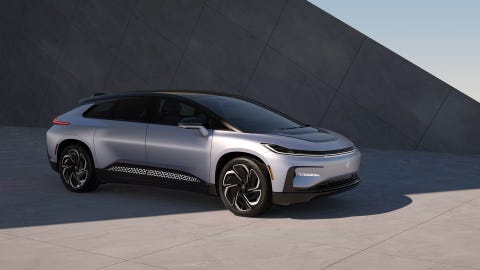 First revealed in 2017, the Faraday Future FF 91 boasts 1050 horsepower from a trio of electric motors, with two on the rear axle and one up front, giving it a claimed sprint to 60 mph in just 2.4 seconds. But the California-based company has struggled to bring the crossover—which stretches nearly as long as a Mercedes-Benz S-class—to production due to financial woes and has pushed back production dates numerous times. But the company claimed in late 2022 that it had received a 381-mile range rating from the EPA, and aims to start building FF 91s at its factory in California in March 2023, with deliveries commencing in April. The FF 91 is expected to cost around $200,000. —Caleb Miller
Faraday Future
Advertisement - Continue Reading Below
Fisker Ocean (Expected: Spring 2023)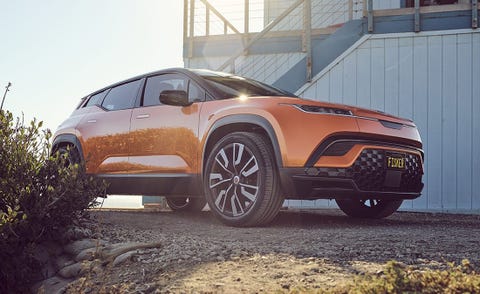 A stylish 300-mile-range electric SUV with a solar roof sounds promising, and Henrik Fisker's EV startup hopes to keep that promise with the Fisker Ocean. Officially revealed at the Los Angeles Auto Show in November, Fisker says Ocean production should begin in the fourth quarter of 2022. The maximum claimed mileage is 350 miles using dual-motor all-wheel drive, while the most affordable Ocean will have a claimed 250 miles of range and start at around $39,000 while eligible for the federal tax credit. —Austin Irwin
Fisker
Fisker Pear (Expected: 2024)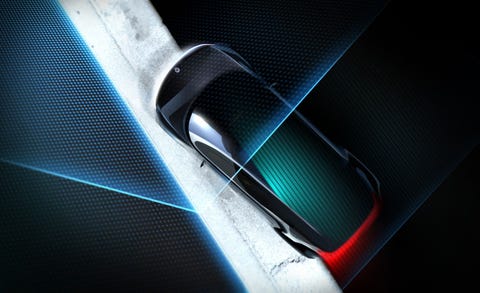 Although there aren't many details or real imagery of the Fisker Pear that's planned to go on sale in 2024, you can reserve one for as little as $250. The Pear will start at $29,900 (without destination) and will be smaller than the Ocean. Pear, which stands for Personal Electric Automotive Revolution will be a five-passenger two-row SUV and will be built at the Lordstown Assembly plant in Ohio. More details to follow as the model gets closer to production. —Austin Irwin
Fisker
Advertisement - Continue Reading Below
Ford Explorer EV (Expected: 2023)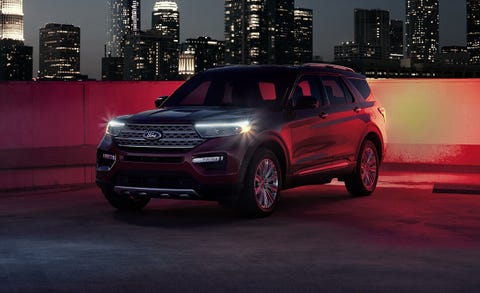 The Ford Explorer is among the most popular SUVs sold in the U.S., so giving it the fully electric treatment is an obvious move. Ford announced in May 2021 that its three-row SUV would be joining the Mustang Mach-E and the E-Transit electric van in Ford's growing electric lineup. Though the current Explorer offers a 318-hp hybrid V-6 powertrain, we suspect that, like with the Mach-E and F-150 Lightning, there are rear- and all-wheel-drive Explorer EV models planned. —Austin Irwin
Ford
Genesis Electrified GV70 (Expected: 2023)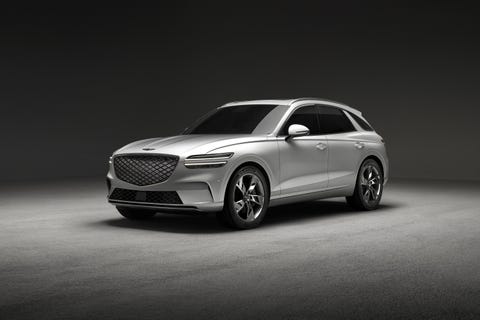 The EV version of Genesis's compact GV70 crossover looks nearly identical to the gas-powered version, save for its closed-off grille, electric charging port, and lack of exhaust pipes. But underneath is a completely different powertrain that features electric motors in front and rear that produce a total of 483 horsepower. The company plans to start selling it in select states soon, with production scheduled to begin at Hyundai's Montgomery, Alabama plant in the first quarter of 2023. —Joey Capparella
Genesis
Advertisement - Continue Reading Below
GMC Sierra EV (Expected: Early 2024)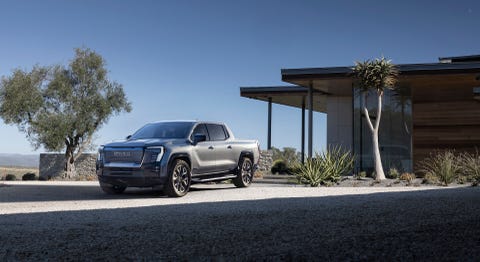 Get ready for the GMC Sierra EV, the brand's first electric pickup truck. While it shares bones with the extroverted GMC Hummer EV, the Sierra is less extreme in many ways. That doesn't mean initial examples will be as affordable as its corporate counterpart, the upcoming Chevy Silverado EV. The electric Sierra will launch sometime in early 2024 with only the Denali Edition 1. This top-spec model includes a 754-hp all-wheel-drive powertrain with an estimated 400 miles of range—but it'll cost nearly $109K. That six-figure price includes GM's Super Cruise hands-free driving system, rear-wheel steering that enables Crab Walk, and an interior with the nicest materials GMC offers. Thankfully, less expensive Sierra EV models will follow in 2025. —Eric Stafford
GMC
Honda Prologue (Expected: 2024)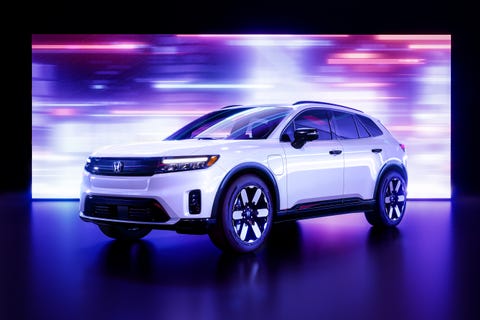 Honda doesn't currently offer a fully electric model in the U.S., but that's all about to change. Set to arrive in 2024, the Honda Prologue is a mid-size SUV that's around the same size as the Passport. Through a partnership with General Motors on EV powertrains, this new EV will use GM's Ultium battery packs and appears to share components with the Chevy Blazer EV. Initial renderings show that the Prologue has a clean design inside and out, but we don't yet know mechanical details. Expect single- and dual-motor configurations and multiple battery-pack sizes. As the name implies, the Prologue is the first of many upcoming electric vehicles from the brand. Acura also plans to add a fully electric model to its lineup that will be called ZDX. Honda has committed to selling only EVs by 2040. —Joey Capparella
Honda
Associate News Editor
Caleb Miller began blogging about cars at 13 years old, and he realized his dream of writing for a car magazine after graduating from Carnegie Mellon University and joining the Car and Driver team. He loves quirky and obscure autos, aiming to one day own something bizarre like a Nissan S-Cargo, and is an avid motorsports fan.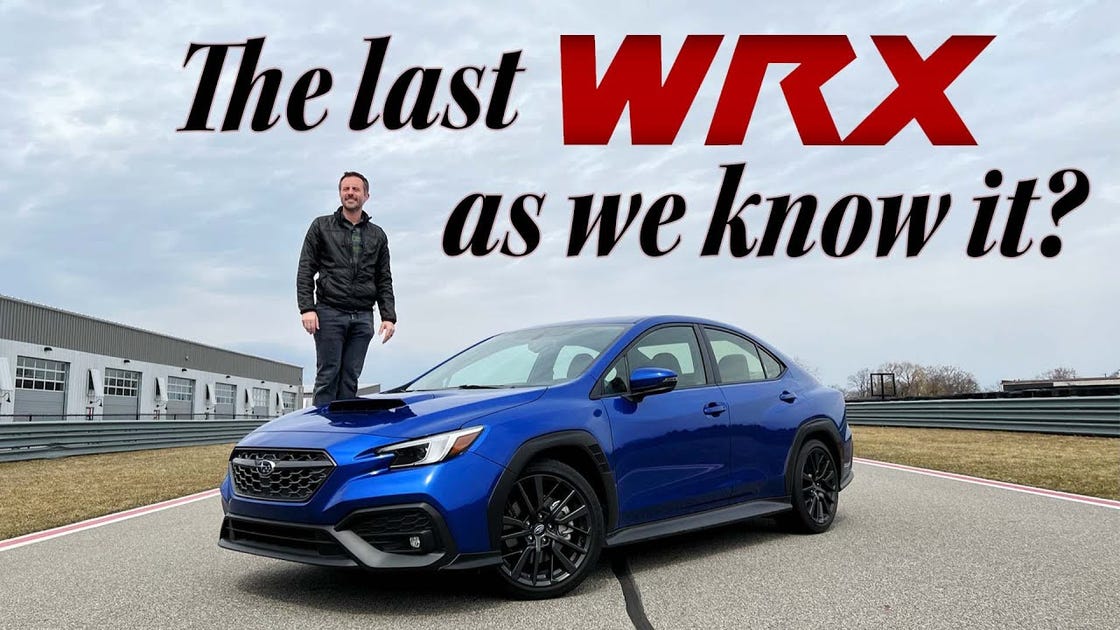 Advertisement - Continue Reading Below
Advertisement - Continue Reading Below