From the September 1986 issue of Car and Driver.
New automotive nameplates don't come around very often. For one thing, new car companies aren't started every day. And among established automakers, staking millions on a nameplate that has no image, status, or history to back it up is a risk that few are willing to take.
In general, low-end buyers are the most willing to embrace products without pedi­grees. If a car is cheap, as the Hyundai Ex­cel and the Yugo are, that seems to be good enough for the transpo-appliance customers. Once out of the bargain-base­ment class, though, new nameplates face an uphill battle. All the advance publicity in the world failed to convince a respect­able number of buyers that the De Lorean was a worthwhile investment. Similarly, Ford's Merkur has not exactly set the sales charts on fire in its first two years, despite offering reasonable value for its price and the backing of America's second-largest car company. The problem is that new nameplates must compete with a large ex­isting population of good-to-great cars­—cars whose virtues are well known to the public. There just aren't many virgin mar­keting niches left these days, particularly in the highly profitable upmarket segment, which virtually every car manufacturer in the world is going after.
Honda's marketing people nonetheless feel that the time is right to move beyond the limits of their existing nameplate with a new franchise called Acura. The strategy behind the new brand is to supply the tra­ditional Honda virtues of superb quality, driving excellence, and a fair price in a more upscale line of cars.
Two models make up the Acura Auto­mobile Division's introductory line. The Legend (C/D, August), an all-new luxury car, fits the Acura strategy perfectly, for it's larger and more expensive than any Honda ever sold in America. The smaller Integra models, however, are not very dif­ferent either in size or in cost from existing Honda products. In fact, the Integras aren't even all-new. Honda is relying in­stead on premium hardware and all­-around driving performance to create an upmarket image for the Integra line.

The foundation of the Integra models is Honda's highly adaptable and capable Civ­ic chassis. The three-door version is based on the 96.5-inch-wheelbase platform of the Civic four-door sedan and five-door wagon. The five-door Integra rides on a 2.8-inch-longer version of the same chas­sis. Both models employ the Civic's strut front suspension, located by lower control arms and sprung by torsion bars. The Civ­ic's power-assisted rack-and-pinion steer­ing is standard. In the rear is the familiar coil-sprung rigid axle located by two trail­ing arms and a Panhard rod; just as on the Civics, the right-side trailing arm is free to rotate on the axle tube, preventing the ax­le's torsional rigidity from restricting sus­pension motion. As with the Civics, anti­roll bars are fitted at both ends.
The Civic foundation aside, the Integra departs from its forebears with a host of improvements. Its brakes are upgraded, with larger vented discs fitted up front and solid discs replacing drums at the rear. Traction is improved by fitting all Integras with 195/60HR-14 Michelin MXV tires, mounted on 5.5-inch-wide wheels. Not only are the Michelins larger than any pre­vious Civic tires, they're even larger than any rubber available on Accords. The Integra's engine (see Technical High­lights below) is derived from the all-aluminum, 1.3- and 1.5-liter Civic motors, but a twin­-cam, sixteen-valve cylinder head has helped boost its power output to 113 hp, a solid 21-hp improvement. The Civic line's five-speed manual and four-speed auto­matic transaxles have been fitted with gear ratios and reinforcements appropriate to the uprated engine. And, as with the fuel-­injected Civics, the Integra employs equal-­length half-shafts to keep torque-steer effects to a minimum.
---
Technical Highlights
Honda has been building high-output four-valve motorcycle engines for America for years, and many of these motors offer brilliant high-rpm performance. Honda's first four-valve automotive engine is a much more se­date performer, as impressive in mid-range flexibility as it is in peak power.

One reason for this equanimity is the small-bore, long-stroke layout of the Civic engine family to which the Integra powerplant belongs. In fact, the 1.6-liter Integra engine's 75.0 mm bore and 90.0 mm stroke dimensions are even more under-square than the 74.0 and 86.5 mm figures of the 1.5-liter Civic en­gine. Such a design limits both the en­gine's revving potential and its valve di­ameter, thereby encouraging the use of a four-valve cylinder head that is special­ly tuned to provide its benefits in the less frenetic rpm ranges.
Mild valve timing was selected to fat­ten the torque curve. A finger-follower valvetrain multiplies the lift at the cam lobes to a generous 9.5 mm at the valves. Long (370 mm) intake runners also en­hance midrange breathing. Good high­-end breathing was ensured by the four­-valve layout, which employs two 30 mm-­diameter intake valves and two 27 mm exhaust valves. (For comparison pur­poses, the Civic's 1.5-liter engine uses twin 27 mm intake valves and a single 33 mm exhaust valve per cylinder.)
As a result, power is up from the smaller engine's 91 hp at 5500 rpm to 113 hp at 6250 rpm. Torque is increased from 93 pound-feet at 4500 rpm to 99 pound-feet at 5500 rpm, and the torque curve is well endowed above and below the peak. About the only trade-off for these increases is a 21-pound weight in­crease (to 207 pounds) over the Civic engine. At a cost of less than one pound apiece, the extra horses are a bargain. —Csaba Csere
---
Although the Integra's designers made good use of Civic hardware for their new car, they realized that familiar styling would not assist in the development of an upmarket image. Consequently, the Integra looks nothing like any Civic. It has much sleeker and more rakish lines; if any­thing, it resembles a shrunken Accord hatchback. The Integra's shape creates a sporting image by virtue of its low nose, hidden headlights, steeply raked wind­shield, and sloping hatchback design. But sporting clichés have been avoided, and there is a minimum of unnecessary surface detailing and brightwork. The Integra looks as if it belongs in the fast lane but doesn't look like a boy racer's car.
This no-nonsense design approach car­ries over into the Integra's interior. The dash is clean and smooth, with a simple layout of controls and white-on-black ana­log instruments. There isn't a tumorous switch cluster or a glowing electro-screen to be found. Instead of gimmicks, the Integra's interior offers solidly worked-out fundamentals: a pair of very supportive and comfortable bucket seats in front, a tilt steering column, a proper dead pedal for the driver's left foot, and gas and brake pedals appropriately positioned for heel­and-toe operation. Everything required for serious driving is present and account­ed for.
That isn't to say that workaday concerns have been neglected. The three-door Integra offers plenty of room for two front passengers; the rear compartment has low bottom cushions and limited headroom but can accommodate a pair of adults for short trips. The five-door, with its longer wheelbase and roofline, offers more head­room and a more comfortable seating po­sition. Both body styles provide a split rear seatback, so the aft compartment can readily be converted into a voluminous cargo hold.
What we have here is a sporting and practical compact sedan with first-rate run­ning gear—in other words, an ideal foun­dation for an attractive small car. Performance is in no way lacking, either. With just under 2400 pounds to motivate, the sixteen-valve engine can push the three­-door Integra from a standstill to 60 mph in 8.8 seconds and through the standing quarter-mile in 16.5 seconds at 82 mph. The Integra is one quick small sedan.
But more important than sheer speed is the joy of winding the Integra through the gears. The five-speed transmission shifts with typical Honda precision and delicacy, and the twin-cam engine revs as if there were no tomorrow. The 7000-rpm redline is easily reached in the first four gears, and the engine will even pull 6250 rpm in fifth, for a top speed of 117 mph. Buzzes and shakes are well muted at high rpm; the eager engine sings the hard-edged song of first-rate machinery working overtime.
For all its willingness to rev, the Integra's powerplant is also happy at doc­ile paces. In normal driving, shifting at 3500 rpm provides plenty of thrust for dealing with everyday traffic, and there's enough urge in top gear so that not every call for more speed has to be accompanied by a frenzied downshift. This powertrain is just as happy going to the grocery store as it is zapping unsuspecting Z28s and Supras. In between, the Integra squeezes 26 miles from each gallon of fuel, accord­ing to the EPA's city test.
The Integra's suspension complements its well-rounded powertrain very nicely. The sporty Acura rides better than any Civic, with less harshness over small ruts and a more supple action over large bumps, and yet it is plenty capable in the twisties. Its power steering is quick and precise, with plenty of on-center feel, and a respectable 0.78 g of well-balanced grip is available. When the front end finally does start to slide, reducing power restores grip immediately and causes the Integra to con­tinue turning in. In short, the Integra is easy to drive, even when pushed to and be­yond the edge.
As capable as the Integra is, though, don't expect it to run away from such com­mitted sports sedans as the Chevrolet Cava­lier Z24 or Dodge Shadow ES. The Integra lies much closer to the middle of the comfort-performance spectrum than such cars, which trade away a great deal of refinement for their raw speed and corner­ing ability. Like the Volkswagen GTI, the Integra is an all-around player: Its speedy virtues are blended nicely into a mature personality that offers comfort and perfor­mance in approximately equal measure. Such a mix can only be accomplished by combining first-class hardware with pains­taking development.
In addition to being a wonderful car to drive, the Integra is well equipped with features and conveniences that contribute to everyday satisfaction. The base Integra, labeled RS, comes with dual remote-con­trol mirrors, a rear defroster, a rear wiper/ washer, a center console, and a very well-finished interior. The higher-level LS model adds aluminum wheels, a pop-out sunroof, plusher carpeting, cruise control, and an AM/FM-stereo radio/cassette, complete with an equalizer. The LS five­-door also gets power windows, which would be a nice touch on the three-door as well. We'd also like to see a height adjust­ment for the excellent seats, but there's really very little missing from these cars.
That makes the $10,848 base price of the three-door LS look pretty good. And the RS comes with all of the same basic hardware for $1400 less. Both Integras, judged by any standard of speed, comfort, utility, or refinement, are the kind of auto­motive bargains that should attract the so­-called upmarket buyers in droves. Wheth­er the Acura name will attract their attention is still an open question, but good automotive values seldom remain se­cret for long.
---
Counterpoint
Looks like another success for Honda—er, Acura. But then we've come to expect as much from the Japa­nese maker that's currently producing some of the best cars in the world. The Acura Integra is everything a sporty hatchback should be. If you've driven a Honda before, you'll feel right at home in the Integra. The seating position is upright, com­fortable, and well-located in relation to the excellent controls and instruments. The Integra's 1.6-liter four is a gem. It won't kick you back into your seat, but it will wind out easily, feeling taut and smooth right up to 7000 rpm. Add the slick five-speed and you have sheer driv­ing pleasure.
I have but two complaints. The air conditioning in our test car had to be left on high on an 80-degree day, and still the interior never got American-style icebox-cool. And the steering had a vague on-center feel, with too much free play when returning to a straight line.
One other thing: Who needs the Acura label? The Honda name already defines a premium line. —Arthur St. Antoine
Honda is one carmaker that never shrinks from a challenge. This year's project is the amalgamation of a new nameplate, fresh fenders, and some old Civic parts to create the Acura Integra.
Many manufacturers would sweat and strain over such an undertaking, but Honda makes it look like child's play. The Integra's sixteen-valve engine tech­nology has been racing around Europe­an and Japanese streets and Formula 1 circuits for a few years, so it lands in America fully matured. The modest Civ­ic underpinnings have been elevated to a new plateau with minor refinements and a major upgrade in rolling stock. The interior fittings and the exterior de­cor have class without being crass.
The real magic, however, comes from refinement. The Integra's engine matches its suspension, which jibes with the cockpit, which makes sense with the exterior envelope. What we have here is an automobile so nicely integrated that even its name fits. —Don Sherman
Like the great major-league pitchers, Honda has a repertoire that just won't quit. When this company winds up, you never know what kind of pitch to expect—big car, small car, cheap car, luxocar—but it's sure to be a strike.
Well, here we go again. This new Acura is a lovely automobile that should be contemplated by anyone in the mar­ket for a rocket box of the VW GTI per­suasion. The Integra, though, is soft where the GTI is hard-edged, creamy where the little VW is brazen. We're talking relatively small increments, mind you, but differences you can see and feel. The lntegra packs plenty of sportiness, but Acura's spin on the ball adds a touch of refinement and plush­ness and backs off a notch on pure aggression.
So if you like GTis, or GLis, or Sis, or Colt Turbos, you'll like this little filly just fine. Just don't ask me for advice when it comes time to buy. In this league, every one of these cars is in strike territory. —Rich Ceppos
Specifications
Specifications
1986 Acura Integra LS
Vehicle Type: front-engine, front-wheel-drive, 5-passenger, 3-door sedan
PRICE
Base/As Tested: $11,098/$12,334
Options: air conditioning, $986
ENGINE
DOHC 16-valve inline-4, aluminum block and head, direct fuel injection
Displacement: 97 in3, 1590 cm3
Power: 113 hp @ 6250 rpm
Torque: 99 lb-ft @ 5500 rpm
TRANSMISSION
5-speed manual
CHASSIS
Suspension, F/R: strut/live axle
Brakes, F/R: 9.5-in vented disc/9.4-in disc
Tires: Michelin MXV
195/60HR-14
DIMENSIONS
Wheelbase: 96.5 in
Length: 168.5 in
Width: 65.6 in
Height: 53.0 in
Passenger Volume, F/R: 48/34 ft3
Cargo Volume: 9 ft3
Curb Weight: 2396 lb
C/D TEST RESULTS
60 mph: 8.8 sec
1/4-Mile: 16.5 sec @ 82 mph
100 mph: 30.2 sec
110 mph: 58.3
Top Gear, 30–50 mph: 10.5 sec
Top Gear, 50–70 mph: 12.1 sec
Top Speed: 117 mph
Braking, 70–0 mph: 194 ft
Roadholding, 300-ft Skidpad: 0.78 g
C/D FUEL ECONOMY
Observed: 22 mpg

EPA FUEL ECONOMY
City/Highway: 26/30 mpg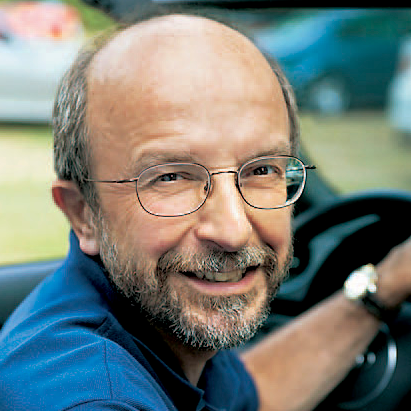 Contributing Editor
Csaba Csere joined Car and Driver in 1980 and never really left. After serving as Technical Editor and Director, he was Editor-in-Chief from 1993 until his retirement from active duty in 2008. He continues to dabble in automotive journalism and LeMons racing, as well as ministering to his 1965 Jaguar E-type, 2017 Porsche 911, and trio of motorcycles—when not skiing or hiking near his home in Colorado.