Best New Hatchbacks of 2023 and 2024
Hatchbacks combine SUV-like versatility with carlike drivability and maneuverability, and these are the best models for delivering on that dual purpose.


By Frankie Cruz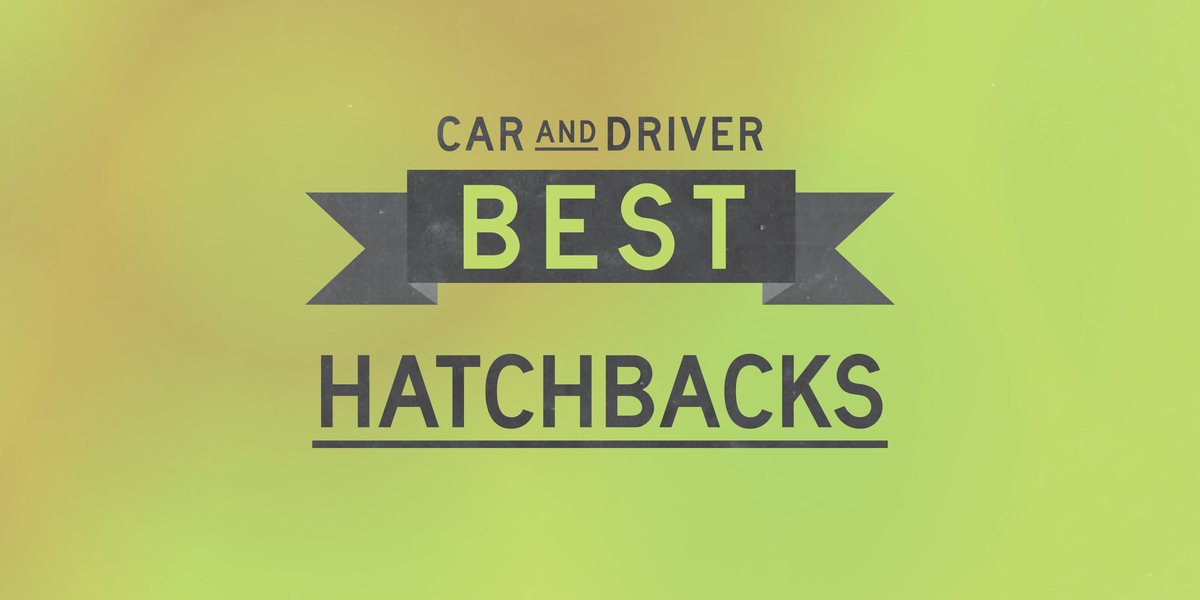 Car and Driver
Call us Goldilocks, because we think hatchbacks are just right. Whereas high-riding SUVs suffer from an abundance of body motions and sedans are plagued by the limited versatility of a trunk, hatchbacks effectively combine the versatility of an SUV with the more engaging driving dynamics of a car. It's a combination that effectively kills two birds with one stone, and manages to appease both our logical left brain and emotional right brain.
Let's face it, SUVs may lack the behind-the-wheel engagement of an equivalent car, but these tall and heavy vehicles' rear liftgates sure make it a lot easier to simultaneously haul passengers and cargo. It's the sensible choice, even if it's not a particularly exciting one. But shouldn't life offer a little excitement every now and again?
Yes, it should, and the lower center-of-gravity and often lighter weight of a hatchback provides these vehicles with driving dynamics that generally surpass those of an equivalent SUV. This added exhilaration is available in many forms, from mild to wild. A Chevrolet Bolt, for instance, favors efficiency above all else, even if its low-mounted battery pack makes this bow-tie-badged EV surprisingly fun to fling about. On the other hand, a hatchback such as the 10Best-winning Honda Civic Type R is as thrilling to push around as some of today's best sports cars, albeit with the ability to bring a trio of full-size passengers and their luggage along for the ride.
In a sense, then, any hatchback is a vehicle our editors can get behind. Thanks to our barrage of testing, though, the hatchbacks on our 2023 Editor's Choice list are the ones that represent the best modern-day examples of this body style.
Here are the best hatchbacks for other model years: 2022 | 2021 | 2020 | 2019
Advertisement - Continue Reading Below
Subcompact: Kia Rio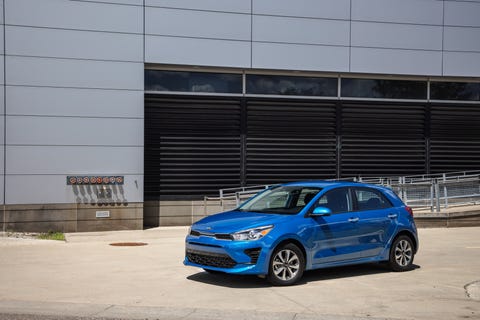 The Kia Rio is a good car at a great price. Available as either a four-door sedan or five-door hatchback, the Rio offers simple transportation while delivering impressive city and highway fuel efficiency. Many of its competitors, such as the Chevy Sonic, Honda Fit, and Toyota Yaris have since been replaced by larger and more expensive crossovers but the Rio hasn't, and it's one of the best of the few remaining subcompact models on the market today. Power comes from a 120-hp inline-four bolted to a continuously variable automatic. The Rio's lack of power can make speeding tickets urban legend, but it deserves some credit for a well-tuned suspension. As one of the cheapest cars sold today, the Rio's standard equipment makes it a tempting choice, and its low price makes it a no-brainer in the sub-$20,000 market.
Car and Driver
Compact: Honda Civic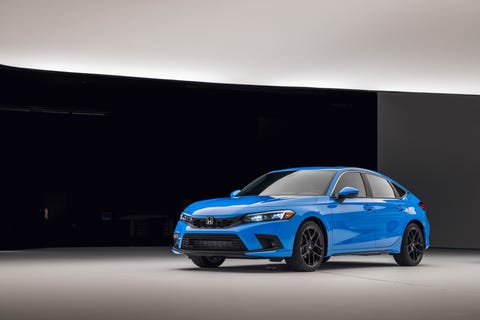 For decades, the Honda Civic has given budget-minded buyers a compact car that makes them feel smart for being frugal. The latest generation, including the 2023 model, carries on this tradition and goes beyond, offering handsome interior trim and several features that very recently were considered luxuries. Sedan and hatchback body styles are available, and you can pick from a quartet of four-cylinder engines and two transmissions—a continuously variable automatic (CVT) or a six-speed manual. All models come with touchscreen infotainment and a generous list of driver-assistance features, with more desirable options available throughout the lineup. The Civic's combination of value, efficiency, niceties, and refined road manners make it a no-brainer, even when compared to similarly well-respected rivals such as the Hyundai Elantra, the Mazda 3, and the Toyota Corolla. Simply put, it's a great car at a great price, making it an ideal candidate for our 10Best award.
Car and Driver
Advertisement - Continue Reading Below
Compact: Mazda 3
Although it's priced just like other compacts, the 2023 Mazda 3 aspires to compete with more premium cars—and in many ways it does. The 3 is available as either a sedan or a hatchback, and both are equally as handsome and agile. Two four-cylinder engines are offered, including a punchy turbo, and you can even have all-wheel drive if you want—though that means skipping the excellent six-speed manual. Other compact cars such as the Honda Civic, Toyota Corolla, and Volkswagen Jetta might seem more practical or have more name recognition, but the Mazda 3 is made for those buyers who value a gratifying driving experience and seek premium interior materials in their small car.
Car and Driver
Compact: Toyota Prius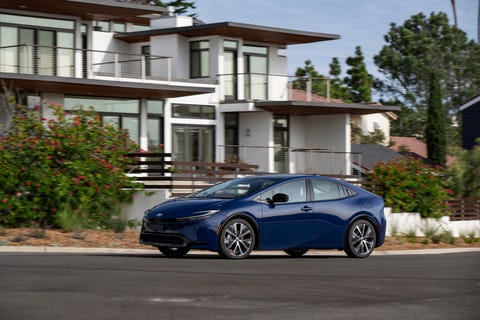 The Toyota Prius hatchback turns over a new leaf—yes that's a clever reference to Nissan's electric vehicle—as it enters its fifth generation in 2023. After being possibly the ugliest car on the market the Prius has pupated into a gorgeous butterfly. The new car offers up to 196 horsepower, the most ever from a Prius. Toyota estimates the 194-hp front-wheel-drive model will get up to 57 mpg combined, also the best number a Prius has achieved. A completely redesigned cabin welcomes a more traditional approach to the driver's-space layout, with bigger screens and a sweetened offering of features including available heated rear seats. The new Prius has a low roofline, a wide stance, and a low seating position that completes its transition into something that looks very much worth driving. The Toyota that started the hybrid movement finds that it's rivals with a host of vehicles now, cars like the Hyundai Elantra Hybrid and Toyota's own Corolla Hybrid, and several hybrid SUVs as well.
Toyota
Advertisement - Continue Reading Below
Sport Compact: Honda Civic Type R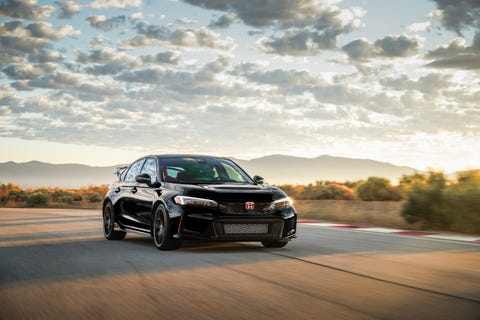 The 2023 Honda Civic Type R's styling is dialed back compared with its wildly designed predecessor, but that doesn't keep it from being more exciting to drive. Offered as a hatchback only, the Civic Type R is built from the more civilized 11th-generation Civic, which is reviewed separately. The new-generation Civic Type R uses the same turbocharged four-cylinder as the last model but with output dialed up to 315 horsepower and 310 pound-feet of torque. The front-wheel-drive Type R's six-speed manual transmission has also been upgraded to handle the power increase, and Honda has improved brake cooling to help handle track-day punishment. The new CTR is built in Japan with a powertrain from Ohio, but it's fun to drive everywhere in between. We were so impressed with the new Civic Type R that we named it to our 2023 10Best cars list.
Honda
Sport Compact: Toyota GR Corolla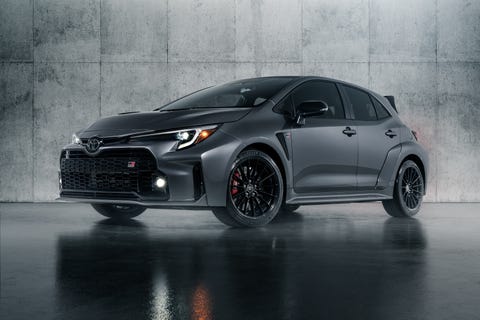 Toyota has turned its performance-vehicle skunkworks division, Gazoo Racing, loose to apply the tuner treatment to the compact Corolla hatchback. And what a good bit of work they've done: The end result is the 2023 GR Corolla. It's a little terror and this hatchback's attitude and performance have landed it on our 2023 10Best cars list. Toyota has already unleashed a GR-tuned version of its Yaris subcompact car in global markets, from which the GR Corolla borrows its turbocharged 1.6-liter three-cylinder engine. The little triple is amped up here to 300 high-strung horsepower and comes only with a six-speed manual transmission and all-wheel drive. Toyota's been on a crusade in recent years to add excitement to its lineup with sportier offerings—witness the revived Supra sports car—and more stylish designs and this rally-racer-inspired hot hatchback should help that effort.
Toyota
Advertisement - Continue Reading Below
Chevy Bolt EV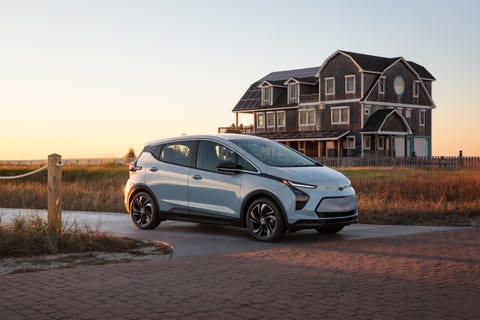 The 2022 Chevy Bolt EV not only looks more exciting inside and out, the redesigned electric hatchback also has enhanced features and a much cheaper asking price. While the most noticeable changes are its futuristic sheetmetal and freshly refinished cabin, it still employs a front-drive-only powertrain that delivers near-instant acceleration. Chevy estimates the 2022 Bolt EV can travel up to 259 miles on a full charge. That gives it a slight advantage over the excellent Hyundai Kona Electric, but it still falls far short of the Tesla Model 3. However, the new Bolt's accessible price, roomy interior, and satisfying driving dynamics should be strong selling points. Those who want a more SUV-like model with additional back-seat space and available Super Cruise hands-free driving will be drawn to the all-new 2022 Bolt EUV.

Chevrolet
Sport Compact: Volkswagen Golf GTI
The Volkswagen Golf GTI pioneered the hot-hatchback genre and now, after decades of existence, it is still the whipped cream atop this sundae of delectable, fun-to-drive compact machines. The GTI was redesigned for the 2022 model year, complete with updated styling and more modern interior features, but it still possesses the fun-to-drive nature that makes it a performance icon. A turbocharged, 2.0-liter, 241-hp four-cylinder is under the hood and powers the front wheels through either a seven-speed automatic or—our choice—a six-speed manual transmission. Its cabin is spacious in both the front and the back and, like every GTI since the nameplate's inception, there's plenty of room for cargo under the hatchback door. Whether you are new to speedy boxes-on-wheels or have been a faithful GTI fan since the early days, this latest rendition is as fun-loving as when the original first arrived on these shores. For a GTI turned up to eleven, check out the Golf R (reviewed separately), which boasts 315 horsepower, standard all-wheel drive, and similarly brilliant handling.
Marc Urbano
|
Car and Driver
Advertisement - Continue Reading Below
Sport Compact: Volkswagen Golf R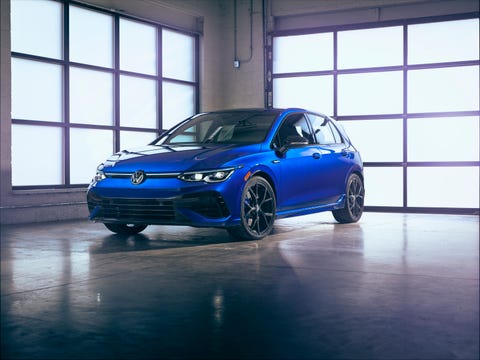 A car's greatness can be measured in large part by how thrilling it is to drive. While entertainment isn't tied to horsepower alone, the 315-hp Volkswagen Golf R is among the best at filling stomachs with butterflies. At a higher tier of performance than the already fun Golf GTI, reviewed separately, the R adds all-wheel drive with a Drift mode that allows the Golf to hang it all out by distributing torque to one side of the rear axle. While this dance feels more natural in totally rear-biased cars such as the Ford Mustang or the Chevrolet Camaro, the fact that it's possible in a package so similar to the Honda Civic Type R is inherently righteous. The Golf R is a hotter hatch than the GTI in part because of bigger brakes and acceleration to 60 mph that's more than a full second quicker. However, the R's heavier price tag puts it in Toyota Supra sports-car territory.
Volkswagen
Entry-Luxury: Audi A5 Sportback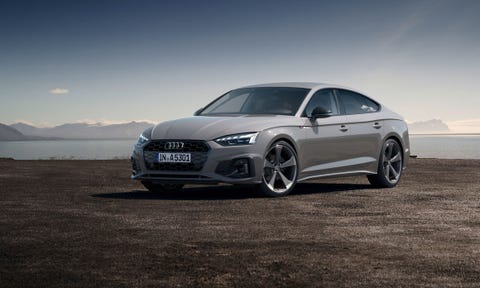 The A5 Sportback is a great-looking, fun-handling, smooth-driving premium sedan that isn't as aggressive as the 349-hp S5 Sportback, which we review separately. As a lengthened version of the A5 coupe and convertible, the A5 Sportback uses an identical powertrain setup with a turbocharged inline-four bolted to a seven-speed dual-clutch automatic transmission and all-wheel drive. A5 Sportback 40 model has 201 horsepower and 236 pound-feet of torque, while A5 Sportback 45 model gains an additional 60 horsepower and 40 pound-feet of torque. A rich breadth of standard niceties such as high-quality leather, a panoramic sunroof, and moody ambient lighting makes even the base A5 Sportback feel plush. While rivals such as the Mercedes-Benz C-class or Genesis G70 have arguably more stylish interiors, the Sportback's is buttressed by an incredibly clear and high-tech digital gauge display with available navigation handled by Google Earth imagery.
Audi
Advertisement - Continue Reading Below
Entry-Luxury: BMW 4-Series Gran Coupe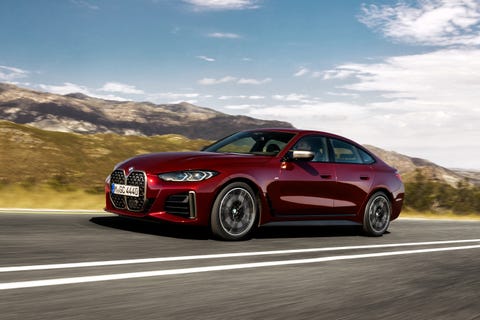 Forget that the 2023 BMW 4-series Gran Coupe has "coupe" in its name; think of it as a four-door sports sedan in two-door drag. Like the regular 3-series sedan and 4-series coupe, the 4-series Gran Coupe offers a polished and well-ordered cabin and your choice of a turbocharged four- or turbocharged six-cylinder engine. The latter, called M440i, hustled to 60 mph in just 3.9 seconds at our test track and feels capable enough on a twisty road to have you thinking "M3.". Headroom in the back seat isn't as generous as in the more upright 3-series sedans, but the 4-series' fastback design cleverly hides a large liftback-style rear door. The Audi A5 Sportback and the Kia Stinger also use this same trick, but the BMW's road manners are more refined than those two rivals. If you like the 4-series' looks but want something more eco-friendly, consider the i4, which shares the 4-series Gran Coupe's body and interior but substitutes an all-electric powertrain.
BMW
Mid-Size: Audi A7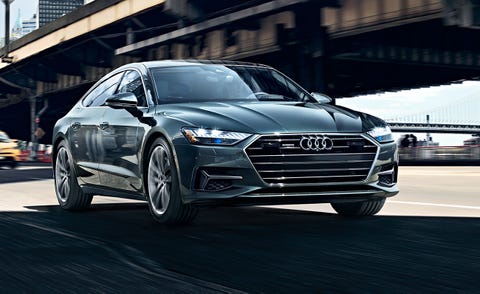 The Audi A7's sleek elegance makes this sedan-like coupe-ish hatchback a looker. Behind the big hexagonal grille sits a turbocharged 335-hp V-6 bolted to a dual-clutch automatic that sends power to Audi's Quattro all-wheel-drive system. With plenty of low-end grunt, the A7 has enough oomph to easily hurry; its rewardingly crisp handling is complemented by a reasonably smooth ride too. For more power in a similar package, the 444-hp S7, reviewed separately, delivers a more vivid driving experience. The latest iteration of Audi's Quattro all-wheel drive system decouples the rear-axle under light loads for improved fuel efficiency, which enabled the A7 to deliver an impressive 36 mpg during our highway fuel-economy test. Inside, the A7 boasts impeccable build quality, and the trim that unifies its leather surfaces and digital interfaces is an elegant mix of materials. Albeit a different experience than the swanky Mercedes-Benz E-class or fashion-forward Genesis G80, the A7 remains near the top of the highly competitive mid-size luxury-sedan segment.
Audi
Advertisement - Continue Reading Below
Mid-Size: Audi RS7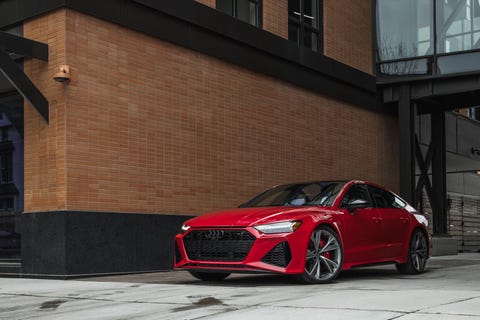 The Audi RS7 is a largemouth high-performance hatchback sedan with swollen fenders and a spacious interior that's chock full of the luxuries and high-tech gear you'd expect in a super-sedan. A 591-hp twin-turbocharged V-8 bolted to an eight-speed automatic transmission supplies the thrills with the help of standard all-wheel drive. The RS7 is nearly 5000 pounds, but thanks to its rear-wheel steering system and superb suspension it feels surprisingly nimble for its size. If this much horsepower is too much horsepower, there's always the 444-hp S7, which we review separately. The RS7 is supremely comfortable and even extra-practical thanks to its hatchback body style. But while the RS7's swiftness puts it in league with such mega-sedans as the BMW M5 Competition and Cadillac CT5-V Blackwing the experience behind the wheel is less visceral than in the big Bimmer or killer Caddy.
Car and Driver
Electric: BMW i4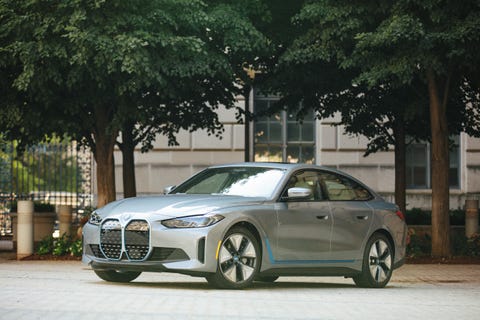 The all-electric BMW i4 sedan is an important piece of BMW's expanding EV portfolio. It offers the style of the 4-series Grand Coupe with a battery powertrain and highly refined road manners, which combine for a 10Best award-winning combination. There are three distinct i4 flavors: The first two are single-motor rear-drive, with the eDrive35 offering 281 horsepower and 260 miles of EPA range, while the eDrive40 produces 335 horsepower with an estimated 300 miles of driving range. That figure drops to 245 miles in the spicy, all-wheel-drive 536-hp i4 M50. The latter drives like a better-riding M3, which is a mega compliment. The M50 reaches 60 mph in just 3.3 seconds, 0.2 seconds quicker than an M3 Competition, and it can jump from 50 to 70 mph in just 2.0 seconds—0.7 seconds quicker than the Bimmer. When not performing ab-exercising acceleration runs, the i4 is an admirable daily driver. Although it lacks the steering feedback we prefer in other M cars, it's an exciting and refined sedan with a supple ride and deeply satisfying sports-sedan handling.
BMW
Advertisement - Continue Reading Below
Sports Car: Toyota Supra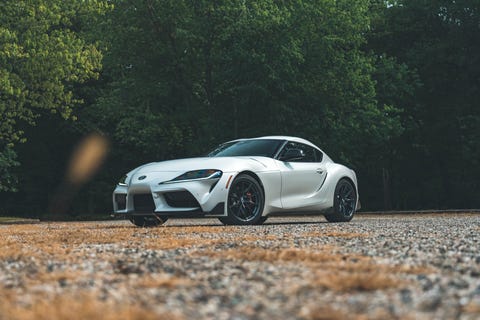 Toyota's halo sports car, the 2023 GR Supra, delivers enough excitement, style, and drama to make up for the brand's more sedate sedans, hatchbacks, and SUVs. Developed and built alongside the BMW Z4 convertible, the GR Supra offers similar build quality and simpler—but still handsome—interior materials inside. The entry-level 255-hp turbocharged four-cylinder provides ample power, but we can't help but adore the ferocious, optional 382-hp turbocharged 3.0-liter BMW inline-six that makes this two-seater fly. Rear-wheel drive is the only setup, and the GR Supra's sure-footed chassis and sharp steering enable it to come alive on twisty roads and race courses. Sure, it may borrow a little too heavily from the BMW parts bin for some Toyota fanboys, and its sweptback exterior design creates some awfully large blind spots, but even so, the GR Supra remains one of our favorite sports cars. It's a driver's car and an enthusiast's delight, making it a no-brainer for our annual 10Best cars list.
Car and Driver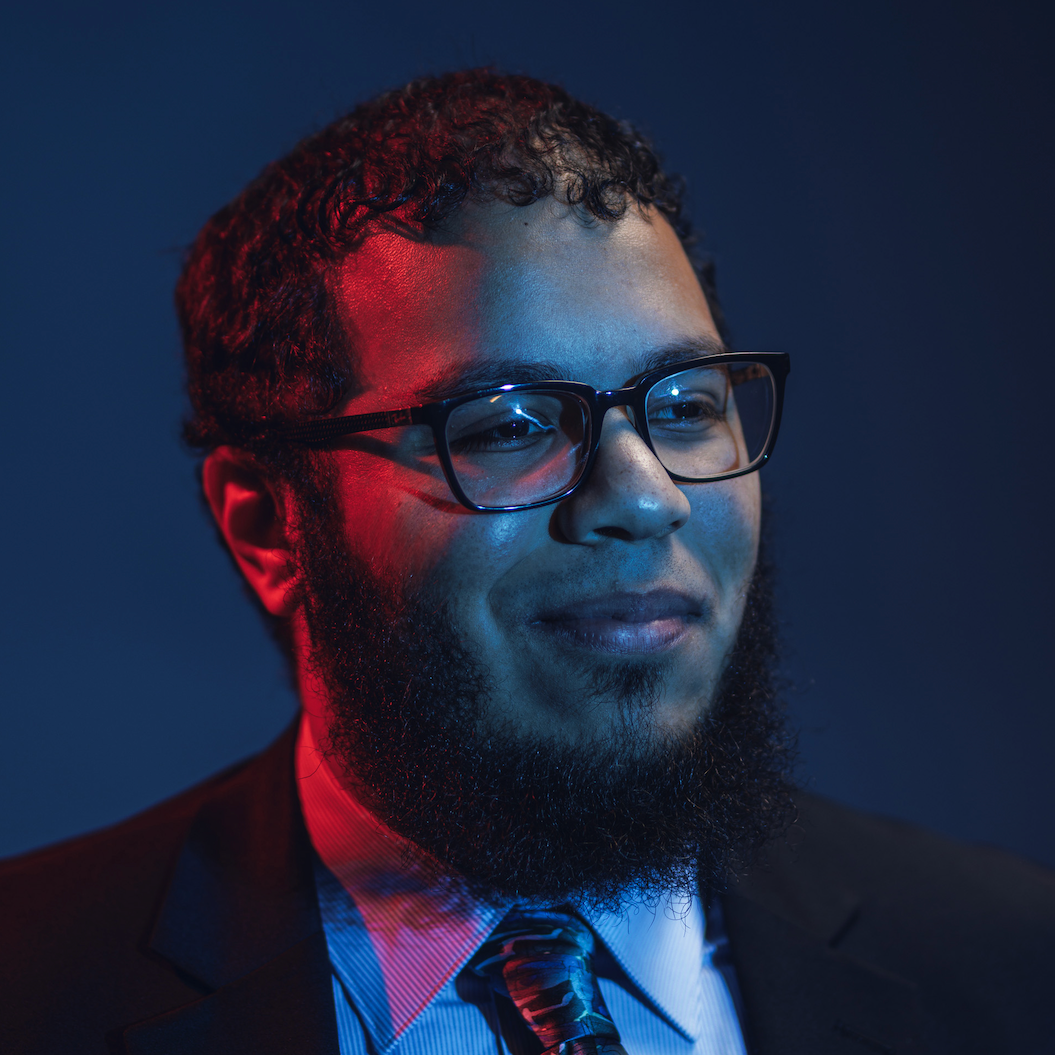 Staff Editor
Frankie Cruz is a hands-on car guy with a wealth of experience modifying, repairing, buying, selling, and—most important—driving cars. He got his start as an automotive journalist in 2014 as an undergrad at Penn State, and he has owned a plethora of vehicles including a Saab 9-3 Turbo X, a Subaru STI S209, and a Chevrolet Camaro ZL1 1LE. His current daily driver is a Cadillac CT4-V Blackwing.