Every 2023 Full-Size Luxury Car Ranked from Worst to Best
Today's flagship luxury sedans offer plentiful power, voice-activated massaging seats, and a plush ride fit for royalty.
By Austin Irwin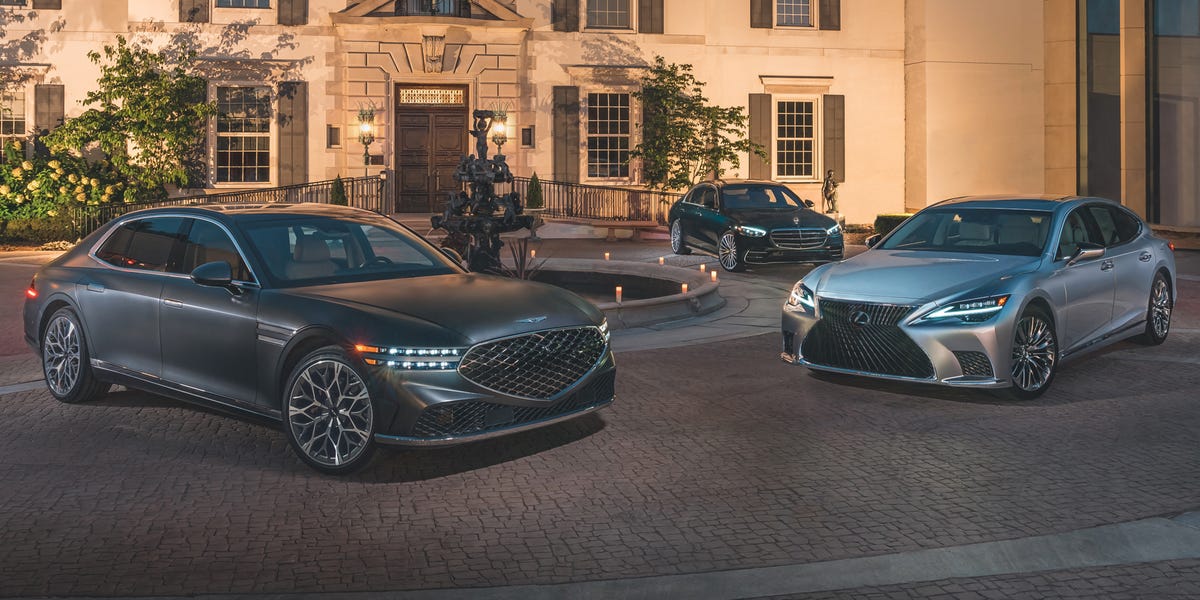 Marc Urbano
|
Car and Driver
There's nothing humble about sitting in traffic in a 17-foot-long sedan that costs four times what most people make in a year—especially when the car starts rubbing your shoulders. Of course, for some folks, it's only money. And while there are fewer models on this list of full-size luxury cars than pins in a bowling lane, the most promising options here are tough to knock.
You won't see many of these models cruising around your neighborhood, and full-size luxury sedans are still threatened by popular mid-size and full-size luxury SUVs. But these are beautiful and thrilling machines—even if someone else is in the driver's seat.

Advertisement - Continue Reading Below
6. Maserati Quattroporte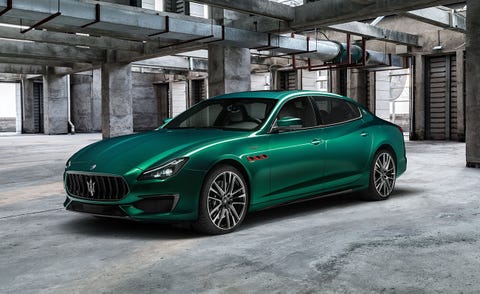 Although the Maserati Quattroporte's enormous trident emblem and distinct styling set it apart from others on this list, those features fail to give this full-size luxury sedan an edge over the competition. Still, the Quattroporte is one of the most obtainable six-figure Italian cars out there, but for something priced like a BMW 7-series, we think it should feel roomier than a 5-series.

Maserati
5. Lexus LS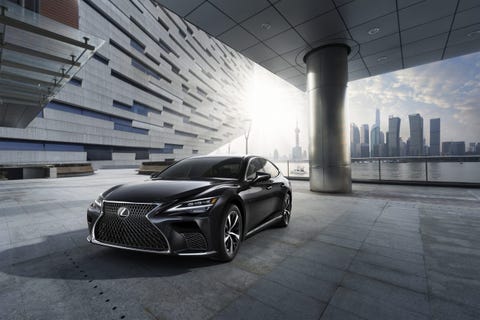 If you love giant grilles, the plastic basket on the front of the Lexus LS is sure to please. It's one of the largest sedans from Japan sold in the United States, and its smooth and potent 416-hp twin-turbo V-6 makes it feel like more than just a fancy Toyota. There's also an LS500h hybrid model that combines the power from a V-6 and two electric motors to produce a peak output of 354 horsepower. We think it makes more sense to avoid the hybrid given its higher price and limited fuel economy improvement. With an EPA-rated combined range of 25 mpg, the LS500h manages to improve upon the combined figure of the LS500 by a mere 3 mpg. Avoid going heavy on the options and the LS's relatively inexpensive base price makes it a reasonably compelling option. That said, once you close in on the six-figure mark, you're probably better off looking at one of the Lexus's German or Korean competitors.

Lexus
Advertisement - Continue Reading Below
4. BMW 7-Series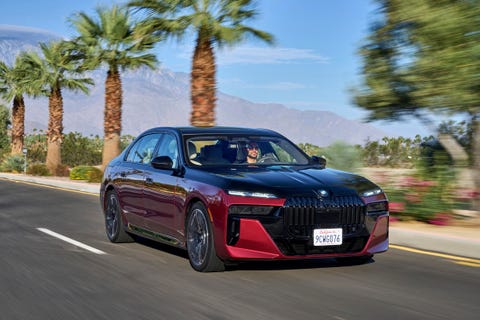 BMW continues to push the boundaries of design with the latest 7-series. Redesigned for 2023, the flagship sedan's slab-sided sheetmetal, split headlights, and massive grille give it a distinct look that helps it stand out from the competition. Whether consumers find the new 7-series attractive remains to be seen. Full-size luxury sedans are more about what's inside, though, and the big Bimmer does not disappoint. Its cabin is richly appointed and its rear seating area offers ample space. That said, we wish the 7's tiller were a bit more communicative, and as crisp and responsive as the sedan's touchscreens are, we still think this BMW could benefit from a few more hard buttons.
BMW
3. Audi A8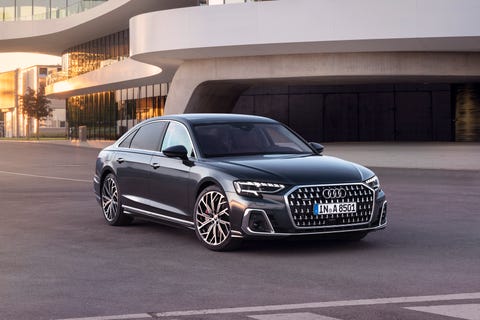 Though it's a big luxury machine, the Audi A8 is far more playful on twisting tarmac than it ought to be. Combined with its quiet and comfortable cabin, the A8 makes a strong case for itself as one of the best full-size luxury sedan options available today. A 335-hp turbocharged V-6 powers the lesser A8 and moves the big sedan with reasonable gusto. Those in search of even more grunt, however, will want to take a look at the even more powerful Audi S8. On the surface, the Audi S8 might look like a civilized big sedan, but give it the beans, and this sled—powered by a 563-hp twin-turbo V-8—rockets to 60 mph in just 3.2 seconds. That's a lot of giddyup for a car that weighs more than two-and-a-half tons.

Audi
Advertisement - Continue Reading Below
2. Genesis G90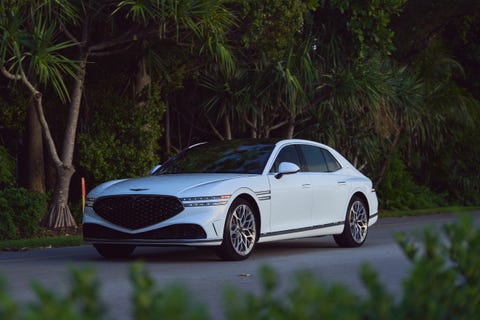 Genesis redesigns the G90 for 2023, and the resulting product is absolutely stunning. Between its head-turning design and high-quality cabin, the second-generation G90 looks and feels far more expensive than its sub-$100,000 asking price. That said, the big Genesis still needs a bit more polish to truly overtake its German rivals. With a smidge more dynamic prowess, a slightly more compelling powertrain, and the fitment of features such as wireless Apple CarPlay and Android Auto, the G90 may just manage to take the top spot in this small but competitive segment.
Genesis
1. Mercedes-Benz S-Class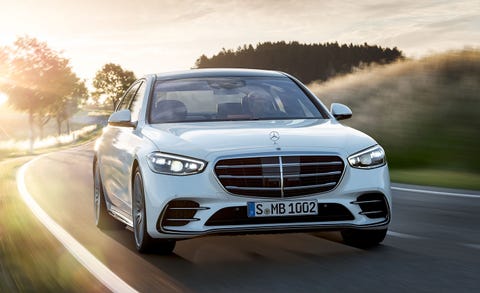 The Mercedes-Benz S-class remains the cream of the full-size luxury sedan crop. No wonder a six-cylinder S500 took top honors over the Genesis G90 and Lexus LS500 in a recent comparison test. Credit the big Merc's opulent insides, as well as its ability to serve as both a cosseting luxury barge and a surprisingly engaging not-quite-sport sedan. No matter the seat you occupy in an S-class, you're sure to feel satisfied. That said, not everything in the S-class is perfect, as Mercedes' latest infotainment system is wanting. Blame a lack of physical buttons, as well as difficult-to-operate steering wheel controls. Still, neither of these facets of the S-class is bad enough to undermine the car's better qualities, which is why Mercedes's flagship gas-powered sedan retains the top spot in the full-size luxury sedan segment.

Mercedes-Benz
Advertisement - Continue Reading Below
Associate Editor
Yes, he's still working on the 1986 Nissan 300ZX Turbo project car he started in high school, and no, it's not for sale yet. Austin Irwin was born and raised in Michigan, and, despite getting shelled by hockey pucks during a not-so-successful goaltending career through high school and college, still has all of his teeth. He loves cars from the 1980s and Bleu, his Great Pyrenees, and is an active member of the Buffalo Wild Wings community. When Austin isn't working on his own cars, he's likely on the side of the highway helping someone else fix theirs.